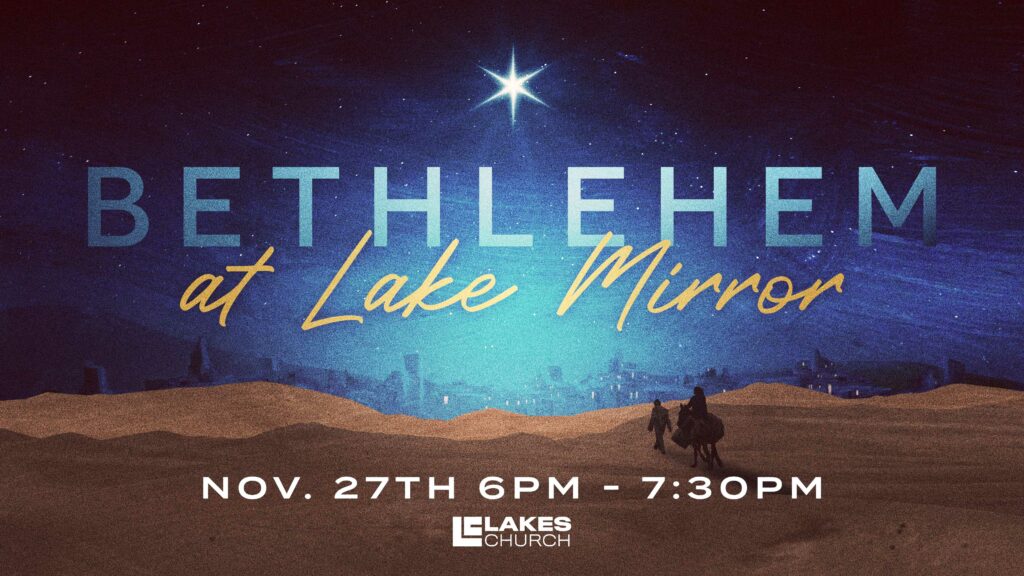 Bethlehem at Lake Mirror
Sunday November 27th
Lake Mirror // 6pm – 7:30pm
Join us for a fun family night at Lake Mirror! You and your family will be able to travel through a Bethlehem experience to help the Christmas story come to life. Experience the Christmas story in a new and unique way, enjoy refreshments at our Bethlehem Bakery, crafts throughout the city and enjoy the sights and sounds this Christmas on the streets of Bethlehem! 
Join us for Christmas at Lakes Church!
Christmas Service Times & Details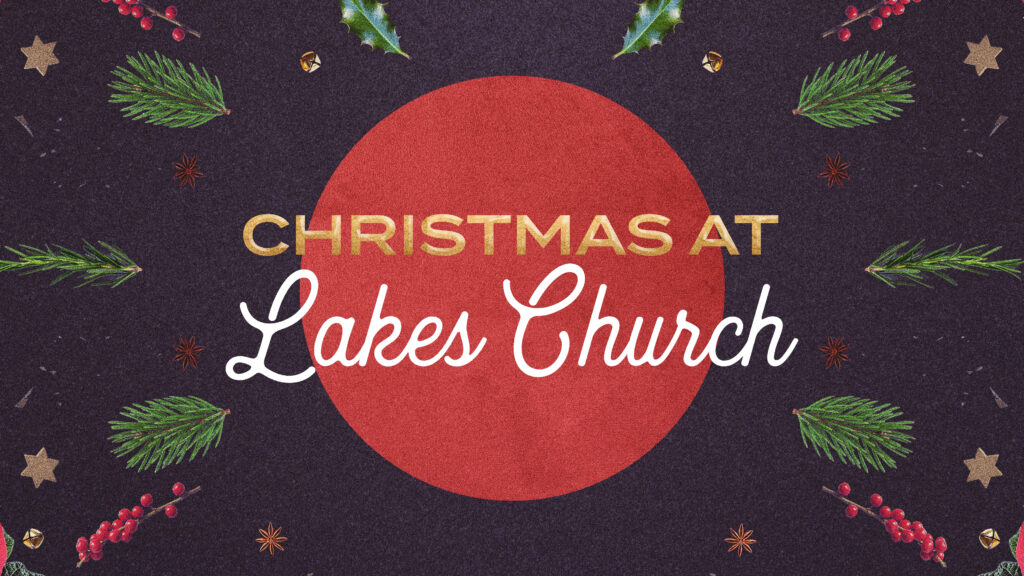 Christmas at Lakes Church
Friday December 23rd
Downtown Lakeland Campus – 7pm
Outdoor Christmas Candlight service
Saturday December 24th
 All Campuses – 6pm
Indoor Christmas Candlight service
Connect Groups will not meet Sunday, Dec. 25 or Sunday, Jan. 1
Sunday December 25th
Christmas Communion Service
Bring your friends and family and join us for a Christmas celebration like no other. Be inspired by the music, partake in communion as a family, and enjoy a relevant message from Pastor Aaron that will live beyond the Christmas season.
All Campuses – 10:45am Bring Manger Offering Gifts 
December 23rd – December 25th
Our manger offering is a special collection we do each year to raise money for foreign missionaries. There will be a special time in each service designated for those who wish to come forward and contribute to the manger offering!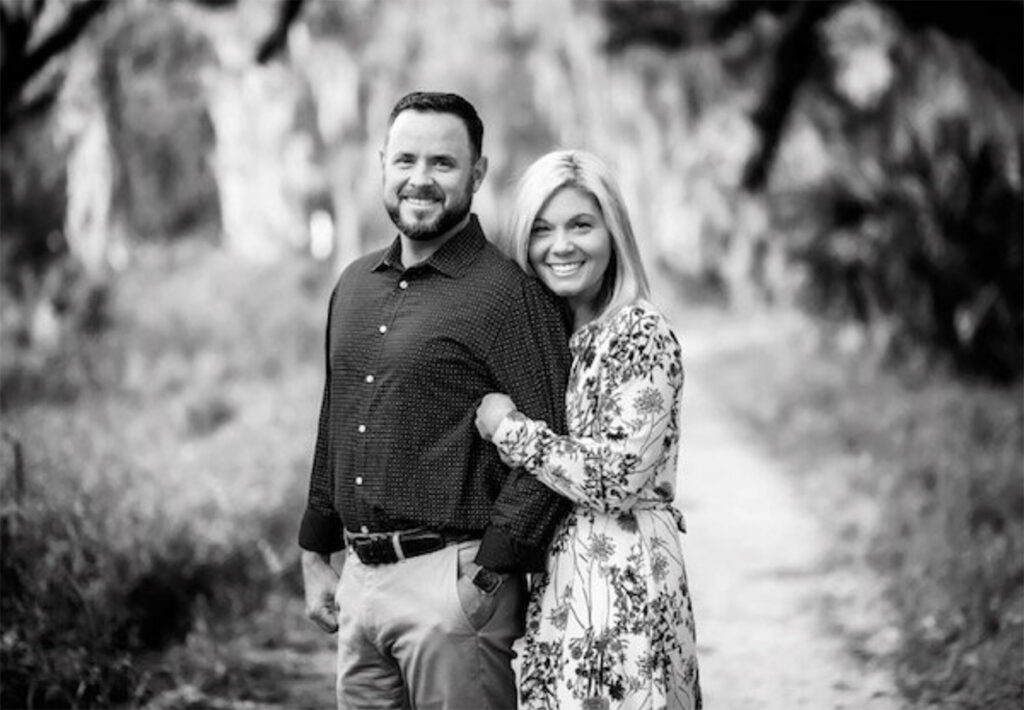 Meet our Senior Pastor
Dr. Aaron D. Burgner
Pastor Aaron became the pastor of Lakes Church (formerly Church at the Mall) in September of 2017. Since then, he has led our congregation with expository and in-depth teaching through the Word of God. His approach is that by learning and teaching through the bible verse-by-verse that we will begin to see that in its entirety, it is all one narrative that points and shouts back to Christ. So, as we look forward to kicking off this Easter Season, Pastor Aaron will be closing out the journey he has been leading us through, looking at the life of Christ, His great sacrifice, burial and resurrection!
Join us for our current series: Carols of Christmas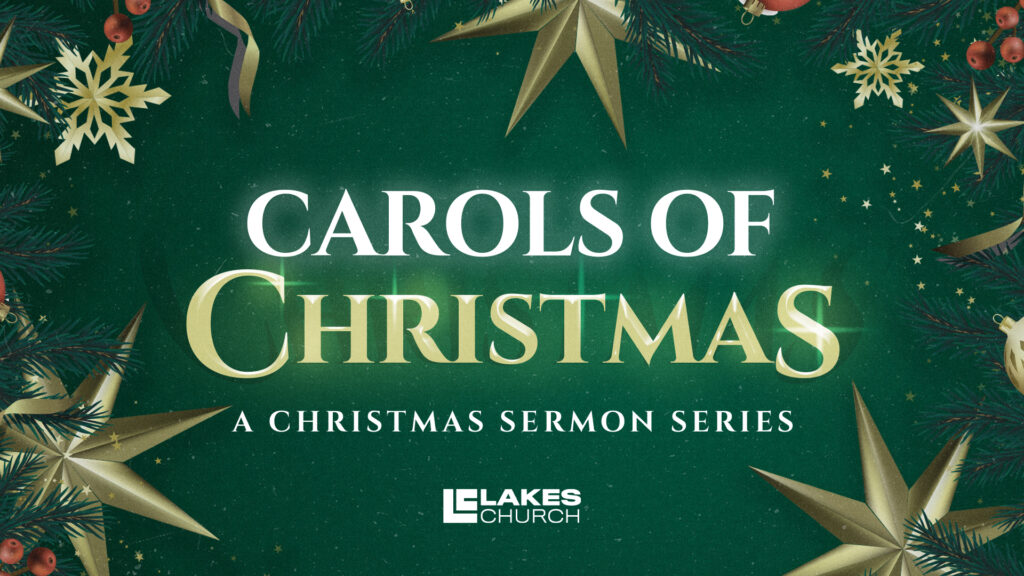 While the world is becoming more chaotic there is something about Christmas that brings about a sense of peace. This Christmas we hope you will join us for our Carols of Christmas series. Under the direction of Dr. Aaron D. Burgner, our campus pastors will be looking at one famous Christmas Carol every week and acknowledging how each carol points back to scripture and the gift of salvation that came as a result of Christ during the very first Christmas!
Lakes Church Christmas Music
Jesus is Here is a Lakes Church Worship Team original song that was completed last year, telling the story of the coming of Christ from Isaiah 52 and Luke 2. Check out this song from our Lakes Church Worship Team.
Lakes Church Christmas Spotify Playlist
Who doesn't love Christmas music? Here are a few of our favorites that you will hearing during this Christmas season at Lakes Church!